We at calculus-help.com choose Bookshop.org with our calculus book recommendations below because they support local, independent bookstores rather than large corporations. Bookstores are essential to a healthy culture. They're where authors can connect with readers, where new writers are discovered, children get hooked on the enjoyment of reading that can last a lifetime. They're also anchors for our downtowns and communities.
This book is catered towards mastering the quantitative reasoning sections of the SAT. The book contains 20 topic-specific summaries and 10 practice problems relative to each section. Along with the topic-specific practice sets, there are 8 full-length math tests with detailed solutions and explanations. 20 topic-specific practice sets with key summaries. Review of essential theorems and properties for the SAT math test. 8 full-length practice tests Detailed solutions for all questions.
---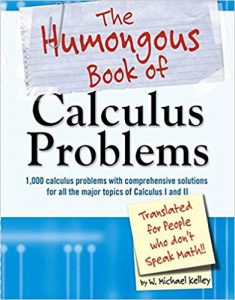 The best way to learn calculus is to work through tons and tons of problems. The Humongous Book of Calculus Problems contains 1,000 problems, each with ridiculously detailed explanations and hand-written notes in the margins that clarify the most difficult steps. Click here to see a sample page.
All of the major players are here: limits, continuity, derivatives, integrals, tangent lines, velocity, acceleration, area, volume, infinite series–even the really tough stuff like epsilon-delta proofs and formal Riemann sums. So dig in to your heart's content, with completely worked-out examples for just about every problem you'll see in calculus!
---
Calculus: A Complete Introduction is the most comprehensive yet easy-to-use introduction to using calculus. Written by a leading expert, this book will help you if you are studying for an important exam or essay, or if you simply want to improve your knowledge. The book covers all areas of calculus, including functions, gradients, rates of change, differentiation, exponential and logarithmic functions and integration. Everything you will need to know is here in one book. Each chapter includes not only an explanation of the knowledge and skills you need, but also worked examples and test questions.
---